"Public Communication Sculpture" is art projects in a public space. Initially started by Noriyuki Fujimura,media artist and Nodoka UI, researcher of water fountain. We have organized some art exhibitions in several public spaces around Tokyo Japan. The aim of this project is to make unexpected encounter of passersby in public space through interactive artworks. We have collabolated with people from various fields for each show.


Download the paper (2001, for CAST01 conference,Bonn) in PDF format[]

The project had been funded by Keio University Mori research grant('99-'00) and Hayao Nakayama Foundation('00-'01)

| | | | |
| --- | --- | --- | --- |
| Fujisawa,1998 | Ginza,1999 | Yokohama,1999 | Lecture,IAMAS,Gifu,2000 |
| Fujisawa,2000 | Ueno,tokyo - Neunkirchen,Germany 2001 | | |
Previous Project: WORLD /WORLD
September,2001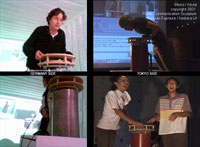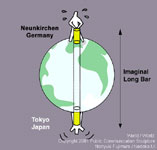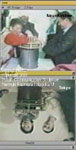 We have shown some artworks in this project and our previous project is named "World / World", collaboration work of Noriyuki Fujimura and Nodoka UI. This artwork/project will make the experience of communication between the people in different country, different culture through tactile sensation. Two network connected installations in remote places make the audiences to have a experiance of communication beyond difference of language.

On September of 2001, we had a chance to realize a part of this project. We put two installations in Tokyo and Germany with cooperation of "The-Virtual-Mine"project"and "University Art Museum of Tokyo National University of Fine Arts and Music"


Goto artwork's webpage

Related Article on ZKM online (in german)
Quoted in Rafael Lozano-Hemmer's "Amodal suspension"s webpage.
Related link and participated artworks/designworks:
Cast01:Living in Mixed Reality:
International conference of new media,Bonn,Germany 2001
"Public Communication Sculpture" was shown as poster session.

Download the paper in PDF format[]
Cast01:Living in Mixed Reality website []

Auditorelation:

A sound-space installation.
Collaboration work of Noriyuki Fujimura, Nodoka Ui and Nathaniel Tull Phillips(Composer).

A prototype was shown at lecture in IAMAS, Sep 2000
Complete version was shown at Keio University Shonan Fujisawa Campust in Oct 2000

Discription by Nathaniel Phillips []
Multi User Presence:

Web applecation to find somebody else who is reading same website at the same time.

Collaboration work of Noriyuki Fujimura, Nodoka Ui and Keizo Fujii(system imprementation).

Custom made C program for linux web server, JavaScript, HTML
A prototype was made at Dec 1999

The system is currently not working.

Remote Furniture:

Interactive public art
Artwork of Noriyuki Fujimura

Participated in "Public Communication Sculpture" show at:
Yokohama, Queens mall, Aug 1999
Tokyo, Ginza subway station, Aug 1999

Goto artwork's website []
Wave Rings:

Interactive public art
Artwork of Nodoka UI
(Sound and programming Kohji Setoh)

Participated in "Public Communication Sculpture" show at:
Yokohama, Queens mall, Aug 1999
Tokyo, Ginza subway station, Aug 1999
Kanagwa, Keio University Shonan Fujisawa Campus, Dec 1998

Goto artwork's website []
Shared Piano:

Interactive public art
Artwork of Noriyuki Fujimura
(MII board unix network programming by Keizo Fujii)

Participated in "Public Communication Sculpture" show at:
Kanagwa, Keio University Shonan Fujisawa Campus, Dec 1998

Goto artwork's website []
Multimedia Interactive Information Board :


Big size LED board connected to the internet
System design and implementation: Yukari Shibuya and Keizo Fujii , as a part of Multimedia Postoffice MII Board Project, SFC, Keio University.

The system is used for advertisemant of "Public Communication Sculpture" show. Moreover, inernet connection and web applecation that two reserchers created made the LED screen possible to be a two-way communication media. Any audience of the show can access to this huge size public bulletin board through the terminal and show up their impression onto the public space.

The system has been working since 1998 and now several applecation is running. Participated "Public Communication Sculpture" show at:
Kanagwa, Keio University Shonan Fujisawa Campus, Dec 1998

Goto the board's current website []